The Hunt was located in Pasadena around the Rose bowl. The weather was in the low 80 with clear skies. I'm pleased to says that Six Teams showed up at Coco's at 77 N. Lake Ave just north of Colorado Blvd in Pasadena at around 9:00am for breakfast.

1. KF6GQ/Jasen
2. WB6JPI
3. N6AIN
4. N6MI
5. N6ZHZ/Doug
6. WA6DWL/Vicki (wife) & Kathy (friend)
Around 10:00am all teams left the restaurant to hide transmitters. By around 11:00am, there were a total of 40 transmitters on the air. WB6JPI had the most hidden transmitters (15 total). The other 5 teams hid somewhere between 3 to 7 transmitters each.
The picture below gives you an idea of the general area where the transmitters were hidden.
Many transmitters were hidden in the hills to the west of the Rose Bowl. KF6GQ chose to go north of the restaurant, unfortunately few hunters searched north , so only one of Don's transmitters was found.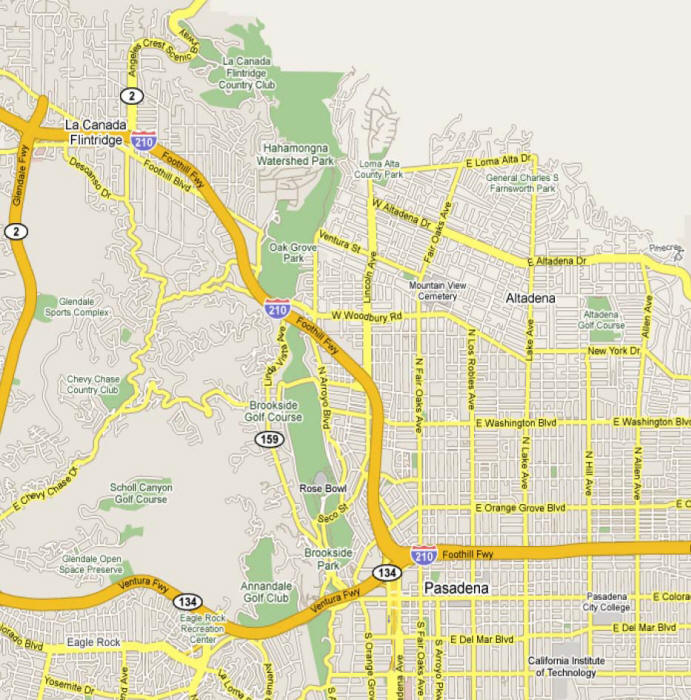 The hunt lasted until 5:00pm, at which time hunters were instructed to pick-up their transmitters and gather back at Coco's to share hunt stories, tally scores, and get a bite to eat.
JPI showed up an hour late after a computer glitch cause him to loose the program that identified where his transmitters were located. Therefore it took him several hours to collect all 15 transmitters by T-hunting them down....one by one.

Results:

Two teams tied for first place with 19 points. WB6JPI and N6AIN are the two winners.


                Ts       other
                hid     hunters
                and       Ts     Total
Calls          found     found   Points
WB6JPI           10        9      19 <==
N6AIN             4       15      19 <==
N6MI              3       13      16
N6ZHZ             3       12      15
KF6GQ             1       11      11
WA6DWL            6        7      13


Thanks to all teams for making this a very successful FFA hunt.