Hiders: Bob N6ZHZ and Cathy KD6CYG
Where: Near Castle Butte, North of 58, near California City, about 17 or 18 miles east of Mojave.





The Hiders Story:

Being summer, we really didn't want to hide out in the desert, but we figured we'd go for it anyway, as Cathy KD6CYG wanted to look for good rocks. As there were plenty of those out in the Castle Butte area north of Edwards AFB, and there were lots of eternally long dirt roads, we decided to plant our Ts there.
T1 was a 13 elephant (element!) beam pointed at Mt. Wilson. We noticed after planting the Froggy T that it's power was dismally weak, so it was placed on a nearby hilltop beside the road so the hunters would actually hear it. T3 started out as an N6ZHZ voice T. It became clear when KF6GQ, KD6LAJ and N6AIN went to hunt it, that it had fallen from its taped position on the creosote branches and it too was very weak.
In order for hunters to hear the Froggy T, Bob decided to shorten the voice ID on T3. Just as he started recording a simple "N6ZHZ," everyone else present chimed in. The results were a whining, screaming N6LAKD6CYGQ pile-up that irritated the remainder of the hiders for the rest of the hunt.
We spent the time waiting for the hunters by having homemade turkey and roast beef sandwiches, using our mister bottle to cool off, and checking out the local agate, jasper and bloodstone. The thermometer in Bob's truck had its register sitting next to the engine compartment, said engine which had been idling all day to keep the AC running and cool. The resultant photo of 138°F is how it felt out there at times, but it really only got up to 105°F around 3:00 pm.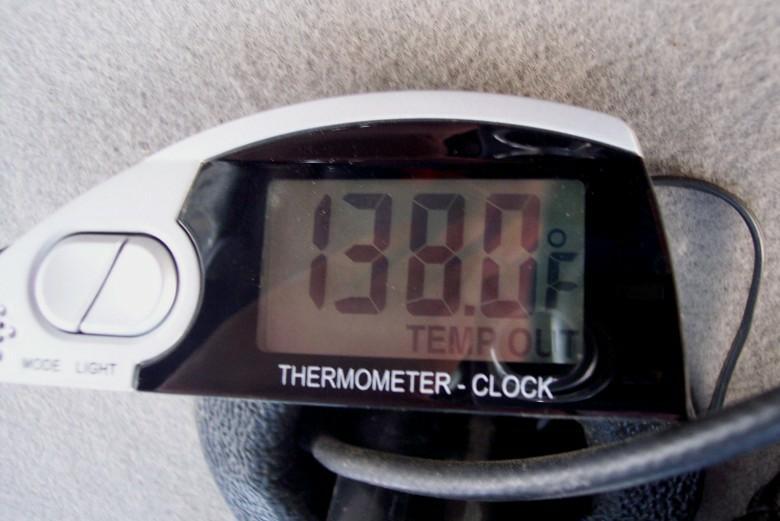 KC6TNJ and WA6TQQ had a fine time hunting, and WB6JPI cheerfully showed up, as did WA6RJN and N6MI and K6VCR -- after being lured to Ridgecrest and Inyokern by the belief that we were WaaaaaaaayyYY out there. Apparently, once headed up Hwy 14, the signal disappeared. We were on the east side of Castle Butte, shielded from the west by the old volcanic neck.
We congratulate the efforts made by KG6LSE and KI6DGD, even though the did not sign into any of the Ts. By all accounts, they were within spitting distance but didn't continue on, perhaps due to deteriorating road conditions.
Thanks to one and all for coming out! Great showing!
Bob, N6ZHZ and Cathy, KD6CYG
Mileages and winners:
T1 T2 T3 TOTAL
KD6LAJ / KF6GQ KD6LAJ / KF6GQ KD6LAJ / KF6GQ KD6LAJ / KF6GQ --
WINNERS!
1:50 PM 137.3 2:40 PM 137.9 2:54 PM 139.6 139.6
N6AIN N6AIN N6AIN N6AIN
(2nd)
2:03 PM 142.7 2:45 PM 143.3 2:55 PM 148.7 148.7
WA6RJN WA6RJN WA6RJN WA6RJN
(3rd)
4:19 PM 171.5 4:36 PM 172.0 4:55 PM 173.0 173.0
N6MI / K6VCR N6MI / K6VCR N6MI / K6VCR N6MI / K6VCR
(4th)
6:20 PM 222.2 6:39 PM 223.3 7:00 PM 224.4 224.4
WB6JPI WB6JPI WB6JPI WB6JPI
(5th)
6:00 PM 355.0 6:21 PM 355.5 6:32 PM 357.0 357.0
KC6TNJ / WA6TQQ KC6TNJ / WA6TQQ KC6TNJ / WA6TQQ KC6TNJ / WA6TQQ
(6th)
3:30 PM 341.2 5:30 PM 362.7 4:12 PM 345.1 362.7
KG6LSE / KI6DGD -- unofficial -- no Ts, but really, really close.
(7th)
Peter and Mom's Story
Don and Steve's Story
Jippy's Story