Results of the May 10, 1997 Pathfinder T-Hunt






The Official May 10th. Pathfinder results are as follows:



TEAM	Ts FOUND MILAGE	CF	CU



KF6GQ      4	48.75	9.4	5.18	WINNER! WINNER! WINNER!	



WB6ADC	   4	48.10	9.0	5.34	(GETS STYLE POINTS FOR NEARLY 

URINATING ON T-2 BEFORE FINDING IT!)



N6MI	   4	50.65	9.45	5.35	



N6AIN	   4    50.8	9.2	5.57



KD6UIR	   4	53.2 	9.0	5.91



WB6JPI	   3	51.6



WA6PYE	   2	47.9



KD6EYR	   1	44.0



K0OV	   2	UNOFFICIAL



N6MJN      0    DNH



CONGRATS DON!!!!






The Ts:
T-1 of Four (the main T) was located 100 yards south of the statue at the T in the Dana Point marina road. This transmitter was 50 watts fed into a Cushcraft 13-B2 and pointed at Santiago Peak. Due to a controller malfunction seconds before the hunt was to start this T was stuck in a 50/50 duty cycle of 10 seconds on/off. This tee was latter dubbed the PAIN-IN-THE-@$! T by all those that sniffed.
T-2 was placed 100 feet south of T-1. This T was a GQ Micro T hidden in a Crackerjacks box, inside a crumpled paper bag. and setting next to two crushed Budwiser cans. Clark picked up style points for his unique sniffing method. When you gotta go, you gotta go!
T-3 was located in the bushes at the youth center parking lot on the North end of the harbor. This was another GQ Micro T hidden in a irrigation valve vault (the plastic flower pot thingy). This was dubbed the skunk T, it seems the little critters took a liking to it.
T-4 was located above the harbor to the north on Cove drive at the top of Dana Point Bluff. This was a TH-78a and a RaCon controller transmitting 2 watts into a Miracle Baby Antenna (its a miracle you can get a signal out of one of those things.) I hope you all managed to avoid the doggie land mines here.
All Ts could be heard, albeit with some difficulty, from the main T location with an HT.
Thanks to all for coming out. 73! de SNE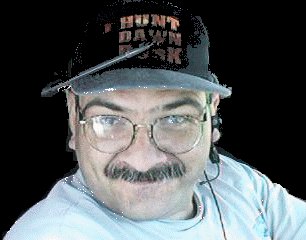 Mike KD6SNE
---