I read the reports on the t hunt email group. Since it couldn't be heard by WB6JPI and KG6GQ near the San Gabriel Mountains and it couldn't be heard by N6AIN on the west side, I figured it wasn't to the south or east. N6UZS did heard it in Orange County and his location could see through the Cajon Pass so it must be north.
I started from by location northwest of LA and headed north on hwy 14. When I reached hwy 138 I heard T2 at about 60 degrees. I took several reading while traveling east on 138. The bearings varied from 0 to180 degrees with wildly varying signal strengths from S5 to full strength without the preamp.
Along the 138 I started to hear T1 at about 135 degrees. At first I thought it was a bounce. I have successfully triangulated reflections from three sides before. I decided to chance it anyway and turned south toward Pinon Hills. The signal was consistent on that route at about 190 degrees. As I approached Pinon Hills the signal gradually declined indicating the T was higher up and farther south. Hwy 2 was the logical choice. The signal disappeared as I traveled up hwy 2 until I reach Wrightwood then it pointed west. I found T1 amidst the occasional wind swept cloud passing by. The temperature was 35 degrees. Saw some nice pine needles with ice accumulation.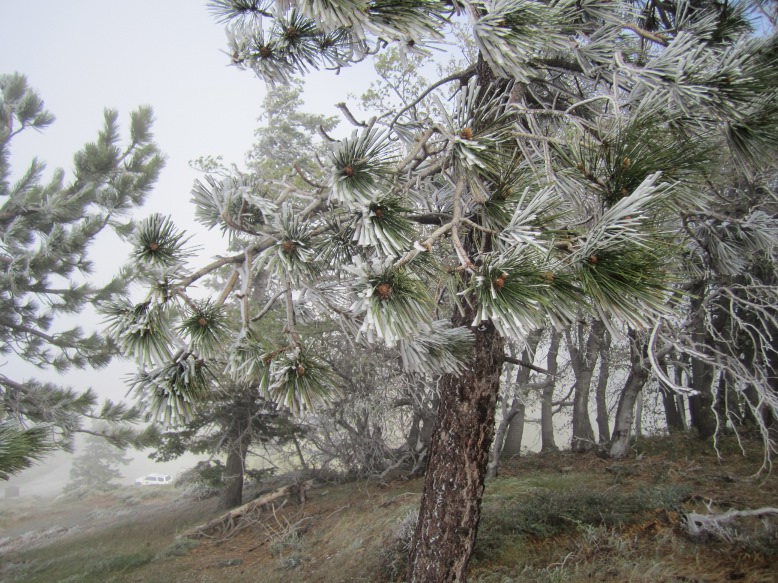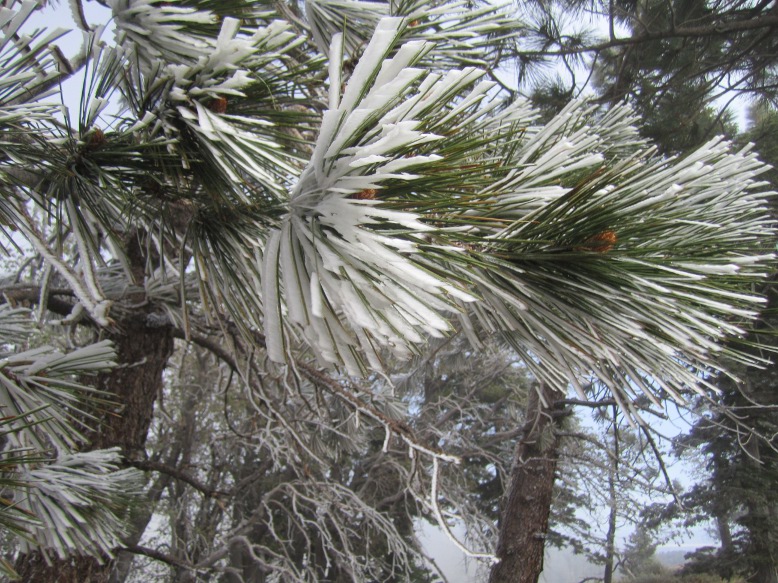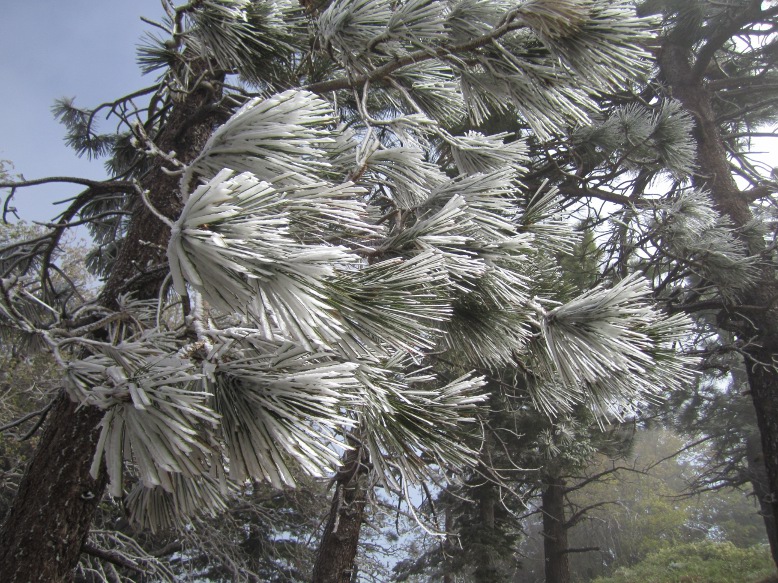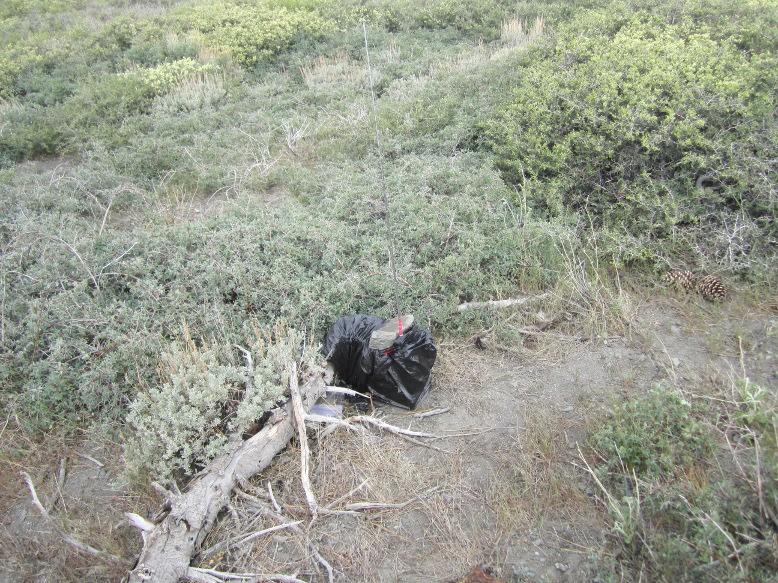 T1 was strong and pointed north. Using my initial bearing and the ones I took along the way it looked like it was north of hwy 58 and east of hwy 395. I put the brain on auto pilot and headed for Kramer Junction (395 & 58). As I de-scended the hill into Kramer Junction the signal became weak. I had expected a very strong signal. I took a reading. Oops, now it was south. I decided to go to the near by microwave site. The signal was south. I had the radio attenuator on plus another external 20db and still had more than half scale. This is a "you are there signal".
I started investigating hills in the area but the signal always pointed south. I headed south down the 395 until the signal pointed west at Shadow Mountain road. I went west until the last reading I took on the hunt I took pointed north. I turned north on the dirt road Lessing Ave with N6ZHZ and KD6CYG close behind. At the north end the road seeming ended on top of a small knoll. Finding the road again it descended the knoll and turned west. I was concentrating on the soft/sandy road and that my GPS position was not following the road I wanted. Then I looked up and found I had arrived.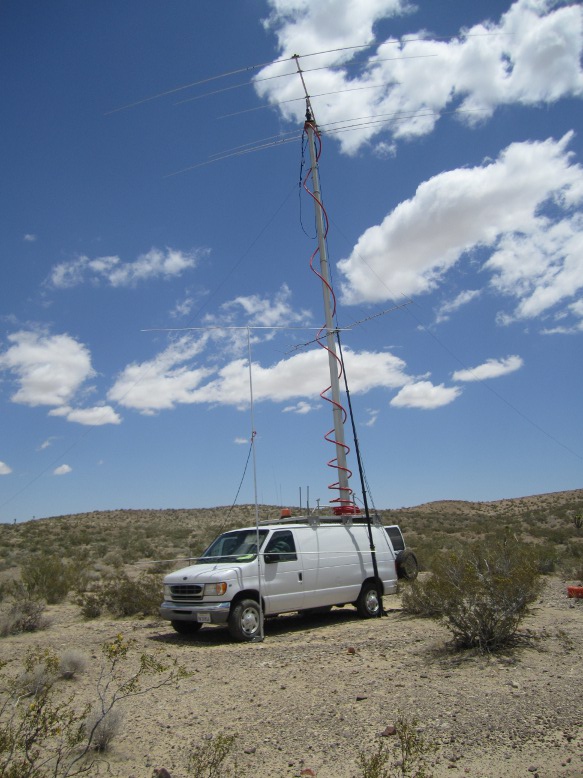 For the second month in a row, all the hunters ended up in the same place (middle of nowhere) at the same time.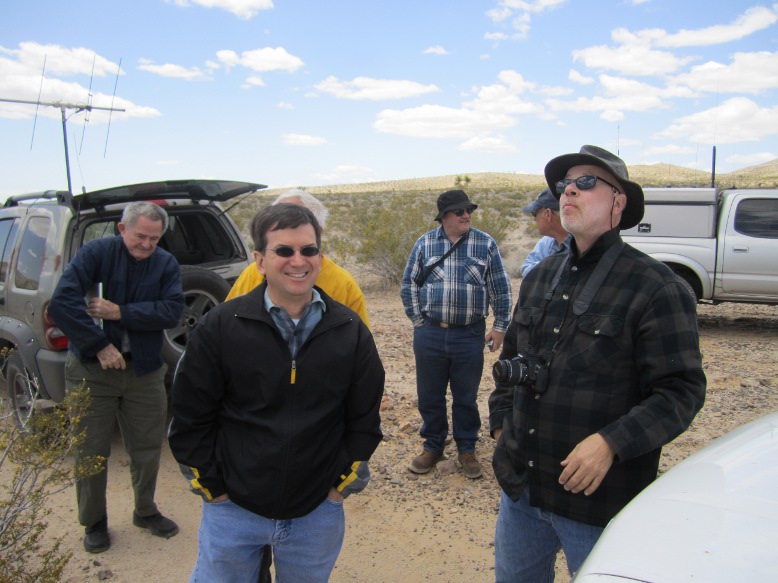 Doug
WA6RJN