The JIPPY Story
Meathead hunt
March 22, 2008
A beautiful day, sunny, light wind and clear. Set some temperature records around SoCal. I had changed my mapping computer in the 4Runner from a desktop to my laptop in the hopes of reducing the RF noise on both the lowbands and 2 meters. I set off for King's restaurant but couldn't get the laptop to find the GPS when using TOPO 5 but it worked just fine with Streets 2007. Since the GPS and both computer programs were made by DeLorme this remains to be a mystery for another day.
On the way to King's I talked to several folk in the Midwest and Texas and had an exchange with a ham in Chile using the Yaesu FT 857. It was shaping up to be a fine day.
I had my coffee and English muffin at King's and proceeded on to the start. Deryl was there and we chatted and I then proceeded to set for the hunt. I use the FT 857 for hunting since it has a RF gain control and also the monitor LCD changes color with signal strength, a most useful thing when getting bearings while on the move when you eyes better be on the tricky curve and not on some meter. The 857 wouldn't turn on. Dead. It has DC power but could not come on from the remote dash mounted control head. Scott showed up and he also uses a 857 to hunt so we exchanged my head and body for his and it worked fine indicating that my homemade interconnect cable had died. I put the 857 away for another day.
I ran the remote attenuator to the Kenwood TM 255A, my main hunt radio previous to the 857 and it too was broken. It would work, but the fine tuning didn't work at all and the knob and mount for the control was very loose and I couldn't find a star spline tool to fix it so I just left it on the 5 KHz frequency and hoped that the transmitters were all close to 146.5650. They weren't, but it didn't seem to matter much as I didn't need the SSB sensitivity or the tone difference to differentiate multiple transmitters. I will fix the tuning dial another day.
Promptly at got T1 on and it was plenty strong at the start. I got a bearing of 64 degrees true and Scott got a bearing of 66.6 degrees which ran right through Fawnskin on the north shore of Big Bear Lake. He could be on Butler peak, or in the Holcomb Valley but almost no way he was in the high desert as the signal was not coming off any of the 10,000+ peaks in the vicinity. It was a direct path to the start.
I was the last to leave and planned and took the fastest route to the west end of Big Bear which was: 111 to 105 to 605 to 60 to to 215 to 330 to 18. This would put me at Running springs and at 6000ft so I could hear most anything. As I approached the mountains in Fontana, the signal got weaker and went away. This ruled out Butler Peak but Holcomb valley is behind Butler and this is still a go for it. But I heard nothing at Running Springs. I was doubtful as to what was happening. I heard a very weak signal west but I knew it wasn't over there as it would been bouncing off of Baldy. Must be east. I went to Fawnskin. NO SIGNAL. Now it was apparent I had made a big mistake. I did what I do when I make a big mistake. I ate. Had a nice lunch in Fawnskin and went on down hwy 18 to Lucerne Valley and back west toward Apple Valley.
Along the way I head a transmitter T2 (T1 was heard at the start) and it was SW of me. I went until it was due south and struck out for the mountains once again. On the way I heard a talking-tee and as it was closer, I went for it. It was on the other side of a railroad track but I found an underpass and zoomed through it. This was a big mistake. I didn't fit under it. Not even close. See the pictures.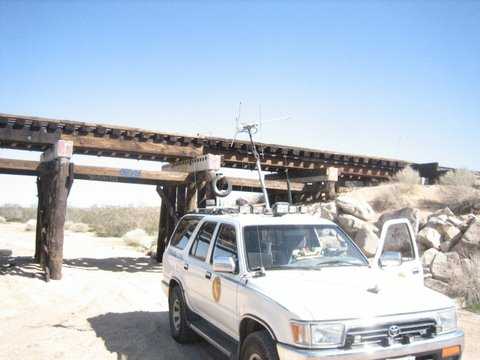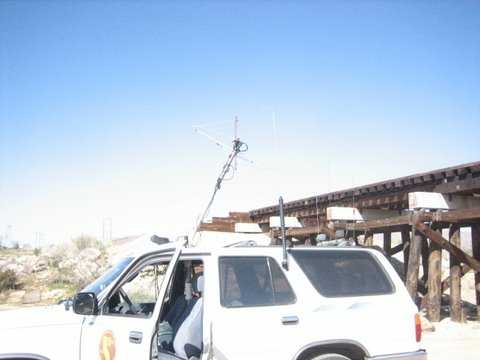 The antenna and mast (A chain link fence post) are in operable. The 4 element antenna looks like it was made of spaghetti and the driven element is broken and the coax ripped loose from its connector. Still haven't found any transmitters and my broken stuff is mounting to astronomic levels. I sniffed out the talking T4 and continued south. I hunted by stopping at every high place and taking bearings I found T2, Green T, T10 and finally T1. All Five, just with my sniffer. I did go by T1 for about 1.5 miles of dirt, but came back and got it. The actual bearing to T1 was 60.5 degrees so the initial bearings at the start were good. I have no real explanation for no-signal at Fawnskin as this was about 10 miles from T1 that had a strong signal at the start 85 miles away. Had I heard T1 at Fawnskin, I could have removed about 70 mikes from my total. I got home without breaking anything else.
Great hunt. Lots of dirt, lots of bad roads, all Ts were under 20 ft from where I parked, and I really got snookered at Fawnskin…
Jippy, WB6JPI