Hiders: Scott N6MI and Glenn AB6PA
Location: 12 Transmitters scattered between Moreno Valley and Beaumont and North to the Redlands Area.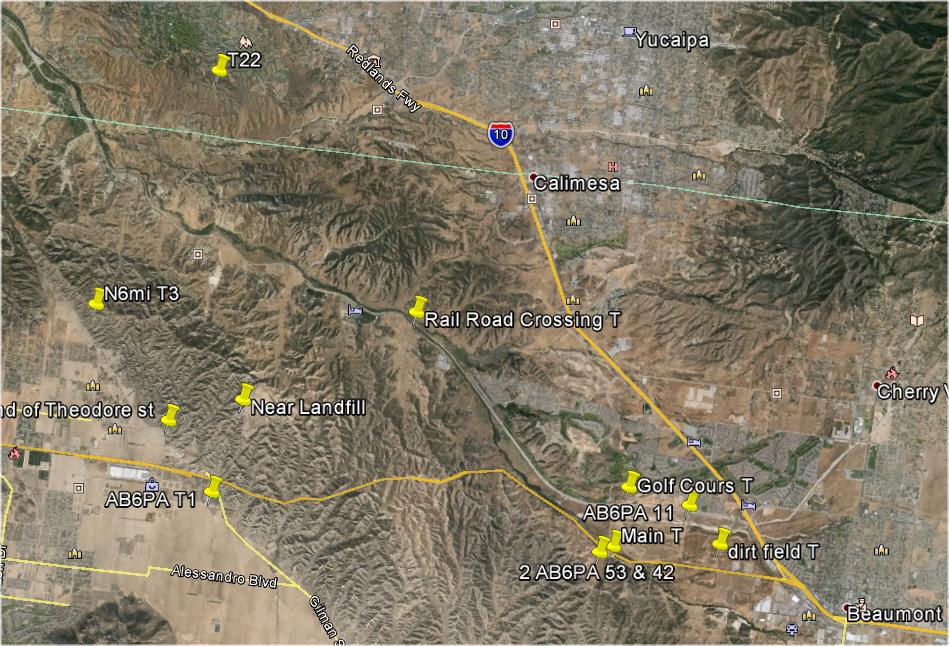 On Friday, November 21, 2014, AB6PA and N6MI set out to hide 14 transmitters around the former De Anza Motorcycle Park in the Badlands (near Moreno Valley, California).
We lost one transmitter; we found it under the passenger seat on Sunday.
Another transmitter (T-17) failed on Friday night.
Twelve transmitters were placed near Jack Rabbit Trail on the east, in a dirt field and on a bridge along Potrero Boulevard, along San Timoteo Canyon Road (at a power station and railroad crossing), on Redlands Boulevard, near the dump on Ironwood Avenue, and near the 60 Freeway (a little west of Gilman Springs Road). All transmitters ran from Friday through Sunday afternoon.
The main transmitter ran 29 watts into a 4 element log periodic pointed north from Jackrabbit Trail, near the freeway. The other transmitters were low power specials. By all reports, there was plenty of signal on the official hunt day (November 22).
Results:

Calls Number of Ts Found
N6AIN/N6EKS 10 Ts
K6VCR 9 Ts
KF6GQ/KD6LAJ 9 Ts
WB6JPI 6 Ts
N6ZHZ 5 Ts

Winner Deryl N6AIN and Ray N6EKS