Location: The hills south of Hemet

I had a plan. I would serve food.hot food...good hot food. Not too many transmitters, but enough to keep the zealots happy. Hunters are not happy if the find all the transmitters before they drop. OK.

Two transmitters and one to locate the place for the food that would not count. One hard, one medium and one easy. Three.The hard one would be impossible to find how to get to where it is. The medium one would have too many ways to get there, most of which are not as the maps indicate. The easy one would be easy, but not that easy.

The medium-hard transmitter was always going to be on top of a hill with 30 watts (T1 iding as T7) into a wide-spaced 10 el beam pointed at Big Bear. This bearing is 20 degrees and the reflection from the BB area to the start would be at 235 degrees. This was the transmitter that should be heard at the start and get the hunters into the Hemet area.

Back in 91, I hid on Red Mountain with the intent of bouncing the signal off of Margarita peak, but it didn't work. No one could hear it so I swung the beam toward Big Bear and they could hear it fine. Our very best hunter of that era (WA6FAT) ended up in Big Bear and never found anything that day.

Ribs, beef ribs and Marlene's great potato salad. Yum..

We are all set for one great hunt..

Then it came, the Espinosa fire. Just one day before the hunt the "hard" spot was ablaze. I had thought of hiding the transmitter on Wednesday as it was to be an AF6O box that can be delayed turn-on up to a week. Luckily I didn't hide it as the spot was fried on Friday. No panic..I checked out plan B, the "hard" hide (T2 iding as T9) would have to become a medium hide and I had a secondary spot. The third spot would be voice T announcing food (FOOD WB6JPI every 15 sec) at my daughter's property off of Sage and Red Mountain roads. This third T would not count in the mileage, so the hunters need only go there when hungry.

Surprisingly it all worked great. Three hunters almost went to Big Bear, one did go to Running Springs and actually sniffed at a spot on hwy 330 some 50 miles away. They also heard the FOOD T there and that is not too bad for 50 mW on a clip-lead vertical. The roads to get to Oat Mountain (T1) were very numerous and confusing and wrong on the maps and all dirt (Some had several multi million dollar homes on them...strange). The first team to find T1 found it at almost 4PM , some six hours and 137 miles. Not too easy. It then took them 2 hours to go the 9 miles to T2, again, not too swift, but indicative of confusion of all these roads that are not on the maps correctly.

The FOOD T was clipped to a flag on Erin's (NT6P) flagpole. It was blowing around most of the afternoon but when it came time for hunters to be hungry, the air was calm. That didn't stop the winning team (the only one to find both T1 and T2) as they could not seem to find their way into Erin's land and had to be directed in on the cellphone. The other three teams found it OK without help. I think they just smelled the ribs. Everyone had lots of ribs except Scott who had LOTS of ribs.

The lack of maps that make sense was certainly a factor. On the other hand the whole area is really screwed up. For instance to get from Erin's to T1 you have to go some 5 miles west on a nice paved road called East Benton road. To get to T2 from Erin's you go east about 5 miles to where the Transmitter was hid on Benton road. Note that Benton is 10 miles east of East Benton. All maps show Benton going east to Red Mountain road, but it doesn't by about 1000 ft and a rather large house with lots of fences. So T2, the plan B transmitter was also a tricky thing.

Fearing that someone would show up very early and be bored, I did have Erin hike around her property and hide a voice T that said,"41, 41, 41, ha ha ha" every minute. Only Don and Steve drove around and climbed out on the rock called 41 to find it. (Erin has named all her rocks).

Now for the details:

T1 was at N33 31.436, W116 58.905 and T2 was at N33 37.322, W116 52.390. FOOD was near the corner of Red Mountain Road and Ballinger Rd with a great view of Diamond Valley Lake.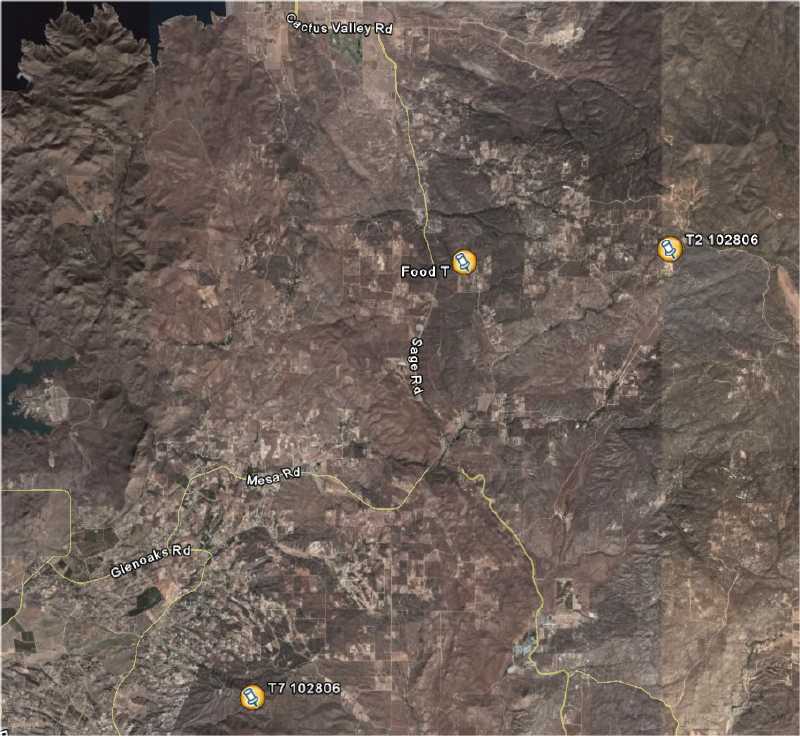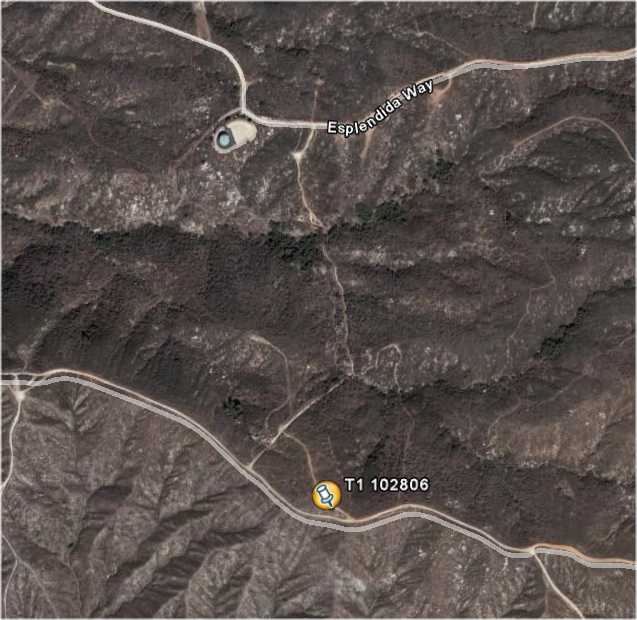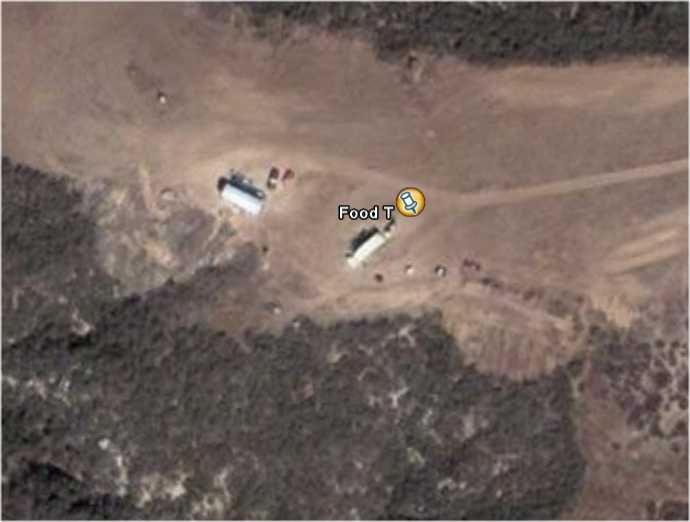 Results

Calls                T1             T2
               Mileage Time     Mileage Time

K6VCR/N6MI     137.4   3:42     157.9   5:28    Winner
KF6GQ/KD6LAJ   180.9   4:10     DNF
N6AIN          207.2   5:01     DNF
KC6TNJ/WA6TQQ  172.7   5:50     DNF