Hiders: N6AIN Deryl and KD6ICZ Jason

Our first choice for a hiding place ended up being on a privet road with a big sign saying KEEP OUT!!! So that was out. I remembered a place that had been used may years before, more that 10 I think, up at the end of Corral Canyon in a parking area just before the gate to Castro Peak. There is a good view to the north and east from there. Maybe we can bounce the signal off Oat Mountain and get them to go too far north.
When we arrived, around , a large group of people, with tables and tents and runners with numbers on them, were in the middle of something. For a bit I thought maybe we had had it. I asked what was going on. One of them said this was the 1/2 way point of a 5 K run. I told him what we were planning and if we could set up. He said sure just park some where. So we did and the hunt was on!

The first transmitter we tried was a squawkbox running, well whatever those thing put out. Seems that only K6MJU / WA6DWL and maybe Jippy could here it. So we put on my No. 1 box, which puts out 1/2 watt on low power. That was better.

Jason had to be at work in Irvine by so he left shortly after we got T1 up and running. He made it with 2 minutes to spare. I took off and place 3 more Ts on or near Corral Canyon Road. Then went back to T1 and Waited.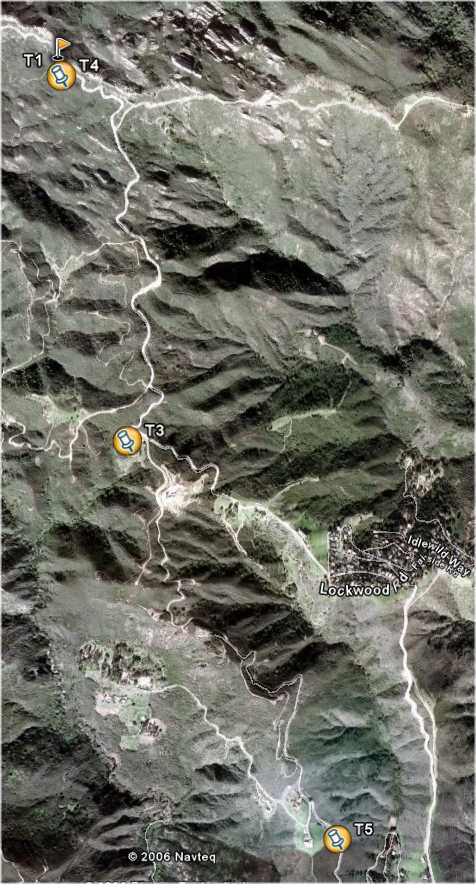 Results:
T1


| | | |
| --- | --- | --- |
| Calls | Mileage | Time |
| WA6DWL / K6MJU | 93.80 | 1:25 PM |
| WB6JPI | 102.70 | ~2:00 PM |
| KF6GQ / KD6LAJ | 87.00 | 2:53 PM |
| N6ZHZ / KD6CYG | 119.10 | 4:15 PM |
| WA6RJN / KG6KZF | 92.50 | 4:20 PM |
| K6VCR / N6MI | 129.10 | ? |
| N6JF / KG6TES | DNF | |
T3


| | | |
| --- | --- | --- |
| Calls | Mileage | Time |
| WA6DWL / K6MJU | 93.30 | 1:10 PM |
| KF6GQ / KD6LAJ | 85.60 | 2:31 PM |
| N6ZHZ / KD6CYG | 117.70 | 3:50 PM |
| WA6RJN / KG6KZF | 91.10 | 4:10 PM |
| K6VCR / N6MI | 129.00 | 4:30 PM |
| WB6JPI | 160.50 | 5:25 PM |
| N6JF / KG6TES | DNF | |
T4


| | | |
| --- | --- | --- |
| Calls | Mileage | Time |
| WA6DWL / K6MJU | 93.80 | 1:37 PM |
| WB6JPI | 102.70 | 4:35 PM |
| N6ZHZ / KD6CYG | 119.10 | 4:35 PM |
| WA6RJN / KG6KZF | 92.50 | 4:35 PM |
| K6VCR / N6MI | 129.10 | 4:35 PM |
| KF6GQ / KD6LAJ | DNF | |
| N6JF / KG6TES | DNF | |
T5


| | | |
| --- | --- | --- |
| Calls | Mileage | Time |
| WA6DWL / K6MJU | 88.60 | 12:55 PM |
| KF6GQ / KD6LAJ | 81.90 | 2:22 PM |
| WA6RJN / KG6KZF | 87.30 | 3:40 PM |
| K6VCR / N6MI | 108.90 | ? |
| N6ZHZ / KD6CYG | 124.60 | 5:33 PM |
| WB6JPI | 161.52 | 5:46 PM |
| N6JF / KG6TES | DNF | |
FINIAL RESULTS



| | | |
| --- | --- | --- |
| Calls | Mileage | No. T |
| WA6RJN / KG6KZF | 92.50 | 4 |
| WA6DWL / K6MJU | 93.80 | 4 |
| N6ZHZ / KD6CYG | 124.60 | 4 |
| K6VCR / N6MI | 129.10 | 4 |
| WB6JPI | 161.52 | 4 |
| KF6GQ / KD6LAJ | 87.00 | 3 |
| N6JF / KG6TES | DNF | 0 |
And the winer is...... The team of WA6RJN AND KG6KZF.

Jason and I would like to thank all the hunters that came out. A good crowd compared to some of the hunts lately.
Deryl N6AIN and Jason KD6ICZ