Hider: WB6JPI Bob (Jippy)
The Hiders Story
I had a plan.
I have a few things I want to try that are new. The first is a group of transmitter (a gaggle) that all sound alike and are located so you have difficulty getting between them to separate their bearings. IU also didn't want them to have any identifying haracter to their transmission other than the transmitter number which occurs after the majority of the transmitter.
The second is using the Baofeng UV5R hand held as the transmitter. I have assembled a controller that is a Digispark processor coded to have 16 different pitches delays and code speeds. This is a new idea in hidden transmitter in that the radio with normal battery is $31 (Amazon), a 3800 mAh battery is $12, the mic/speaker connector and wire is $7 the digispark is $9 and the antenna connector is $7 the software is free so the whole thing is $66 and there is no mods to the dual band hand held and it will make 1 or 4 watts with every know bell and whistle as a hand held. My gaggle consists of three of these Baofengs and two micro Ts that send CW and T1 or T3 for a total of 5 transmitters.
The third thing I wanted to do is to keep everyone lively in the hunt by having at least One transmitter that was just annoying and to have on that is hard, very hard to find. I made the first requirement by having a high altitude 200 mW transmitter iding WB6JPI every 5 seconds. The second was a miserable failure as you shall see,
Another thing I wanted to evaluate is a Software Defined Radio (SDR) I just got working on Thursday and could not get it ported to a portable computer so it would only run from my main computer at home. So the hunt needed to be near home so I could evaluate the SDR for use in transmitter separation and as a hunting accessory. This worked out very well and the SDR performed admirably in seeing transmitters I could not hear and seeing transmitters being covered up by other transmitters. It is going to be a useful device in multiple transmitter hunting. If you already have a computer in your hunt vehicle, it no big deal to add this receiver. It is a $7 item and plugs into a USB port and into a antenna on the car (what not another antenna!!!). If you want a better one than I have you can spend up to $20 for a "FunCube Dongle". Mine is just a lowly DVB RTL SDR Dongle
So now I have my objectives and on to the hunt…
T10, my 30 watt transmitter and the 13 element wide spaced antenna would be the transmitter no one should find. It was to point at Mt. Baldy from a height and between mountains so it was not line-of-sight to anywhere but only the bounces off of Baldy would be available for anyone to take bearings. I found such a spot at the intersection of Cleghorn road and Cajon Mountain road. This is a nice spot 4000 ft with Cajon Mountain to the south blocking with a nearby 4000 additional elevation and Cleghorn mountain to the north and a good ridge to the west leaving the upper 5000 ft of baldy available for a bounce directly back into Cajon Pass.. It is my assumption that the signal would give bearings in all directions below 4000 ft as there was no way to get a near LOS look at it from anywhere that people should have any idea to go. With 30 watts and 13 elements, it would be very loud even after a couple bounces..
A problem with T10 was that it would not have much (enough) signal to get in to LA so people could start the hunt. So I found a spot on Bailey Canyon road that was at 4000 ft and had a direct look into the basin. I put my number two transmitter (T6) there with a ½ wave vertical Ringo antenna.
To get people back into the Cajon pass I hid T-5 a talking T, 40 ft east of the 215 fwy, but 2 miles of dirt road to get there.
The Gaggle was to be located on Okie Flat road just east of I-15 and would be above I-15 by 1000 ft. On Tuesday when I checked all this out Okie Flats was open, but on Saturday Morning it was gated. I decided to move the Gaggle to the same road I had used in the last hunt, a little dirt road west of I-15 off of Swarthout Canyon road. I hid the 20 watt there last time and Don asked why I didn't hide it further up the road. So I did. I was about ¼ mile further and the road was very interesting. I don't know how Deryl got the 2WD Escape in there.
Now comes the mistake. I wanted to hide a transmitter up on top of the hill and found a spot in Cedar Pines Park on the side of a water tower fence on a paved road. When it came Saturday Morning I couldn't find the thing but I did find a dirt road off of Devils Canyon Road and ran up another 2000 ft and had a nice view of Mt. Baldy. So I hid T-6A and the 5 second "WB6JPI" tee there. In thought this was Monument peak but it turns out it is Cajon peak (the one with the microwave site). To make matters worse the road from T-10 is Bailey Canyon Road, the same one that T 6 was on. From T-6 if you keep going, it wanders past Monument Peak and Sugarpines peak and finds Cajon peak. I didn't know that.. I thought Bailey went to Monument and died there and I didn't know that the road south out of Cleghorn rd and T-10 was Bailey rd and I didn't know I hid T6A and talking jpi T on Cajon peak.
I think Deryl/Ray did just that He went from the 15/210 found T5 on to Pam street that becomes Bailey Canyon in Devore found T6 and on north to Monument, Sugarpines to jpi an d T6A at Cajon peak on to T-10 . Don/Steve somehow got on to Bailey without coming in from Devore (although they found T-5 which was in Devore) and never found T6, but found jpi , T6A and T10 and then vanished. I don't know how they got home without going through Cajon pass and finding the others. Doug is even stranger He finds T-10 first and nothing in Cajon Pass (I have no idea how he got there) and must have passed Don/Steve and Deryl/Ray getting to Cajon mountain and then he too vanishes. after T6A and jpi..
Deryl/Ray must have left T10 toward Silverwood, went back to the 15 via 138 And there they found T1, T2, T3, T3A missing only T1A in the gaggle. They is the winners. They had found 9 of the 10 transmitters.
Transmitter locations:
T1, T1A, T2, T3, T3a (the Gaggle) 34° 17' 00.81" N 117° 28' 19.23"
T5 34° 12' 50.00" N 117° 23' 29.88" W
T6 34° 13' 34.81" N 117° 21' 19.14" W
T10 34° 17' 13.68" N 117° 24' 26.39" W
T6A 34° 15' 40.80" N 117° 22' 15.23" W
JIP 34° 15' 04.59" N 117° 21' 37.55" W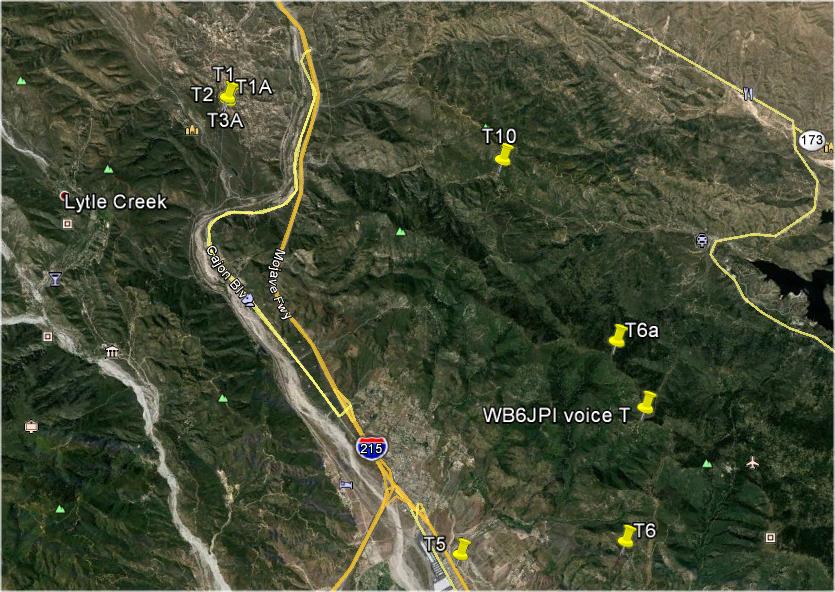 Hunters:
N6AIN/N6EKS found 9 WINNER
KF6GQ/WA6LAJ found 4
WA6RJN/KG6KZF found 3