The July 22nd 2017
All Night Transmitter Hunt


Hiders: Don KF6GQ and Lyn KA6TAS, Steve KD6LAJ and Debra KG6LOR

Well we where hoping for more hunters, but unfortunately I think this is a happening of the past. We did get three teams, which meant there was a possibility that you (as a hunter) won't be stuck having to hide the hunt.
The start point was at the top of Cajon pass at the old Summit Inn location. Not having cell contact when 10:00am happened we had to hope one of the transmitters could be heard. All higher powered transmitters could be heard from the locations of the others.
Look at map photos to see the locations of each. T11, the main T, was located on 2N49, which seems to have deteriorated from what it was several years ago. However, from Cedar Pines Park in which most of the rest of the T where located was accessible on a forest dirt road of about 1 mile to paved roads. The location of T11 was moved from it's primary location because of high dry grass, and it's possible fire danger.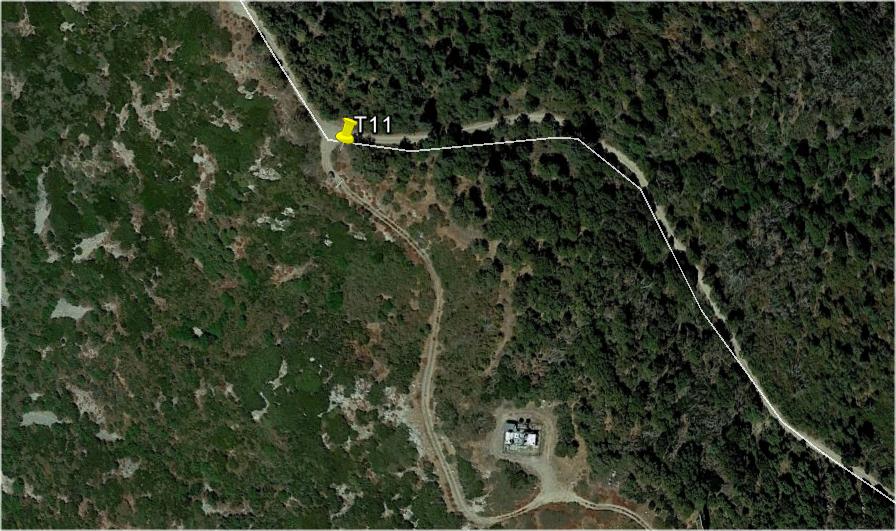 The rest of the T's where located in and around the Cedar Pines Park area (see maps).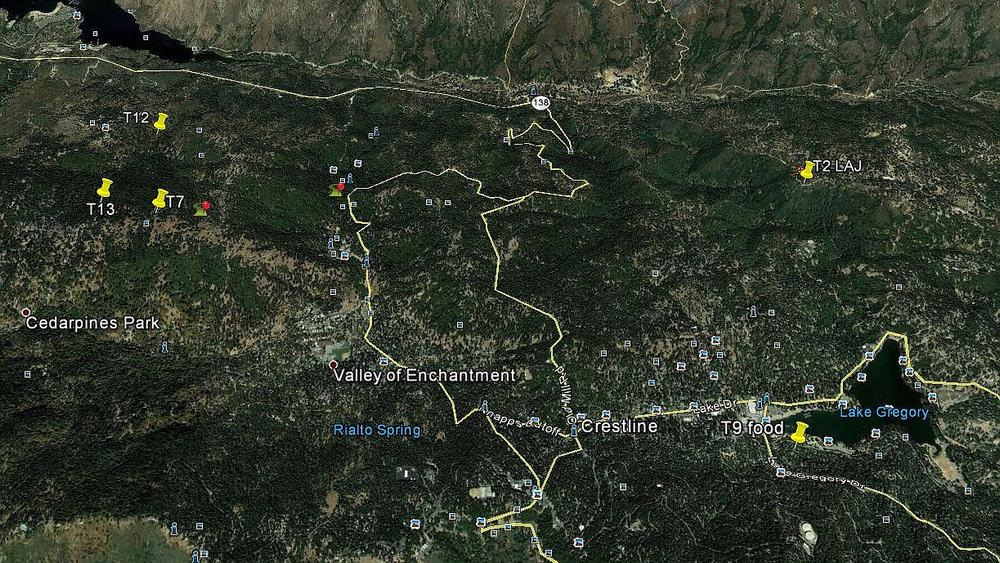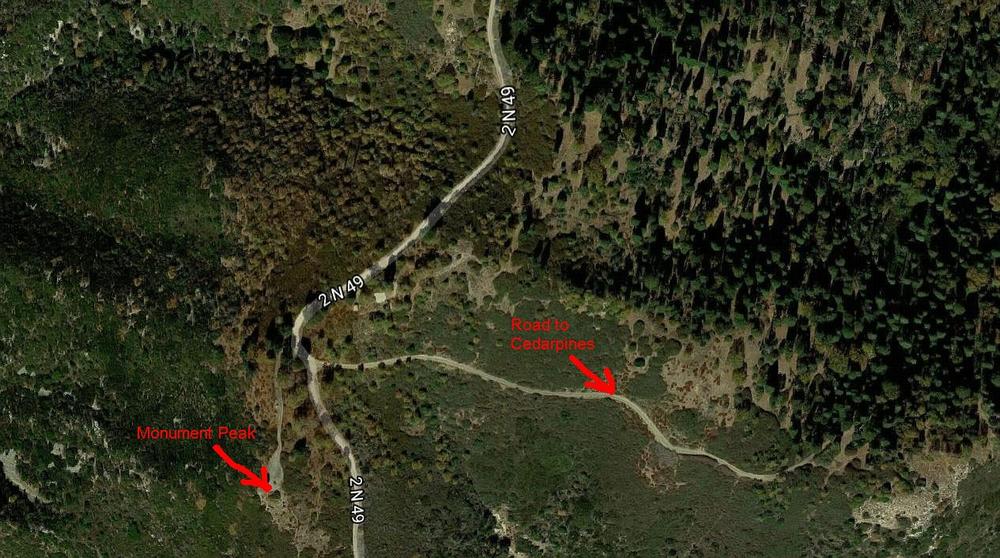 One T2 LAJ was located N.E. Of Lake Gregory just off a gravel road. T9, the food location, was located at Lake Gregory itself. The other three T's where located at the top of a high plateau just north of Cedar Pines Park. T7 was at the top and T13 was on a dead end road about 0.2mi crow distance from T7. T12 was on 2N03 as it reenters the San Bernardino National fores about 0.75 miles in.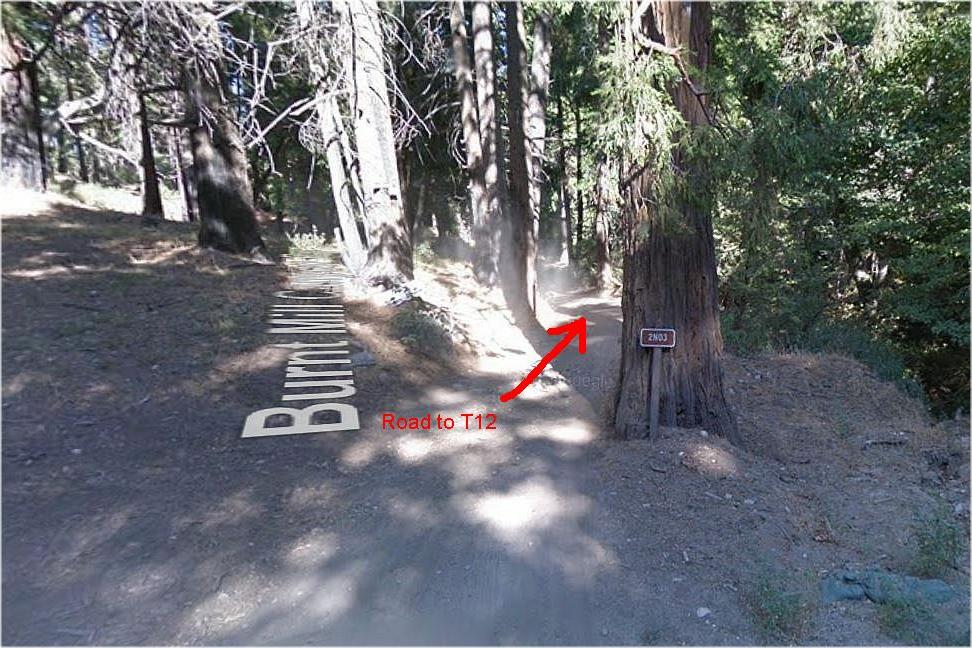 T-2 LAJ 34.2589, -117.2700
T-7 34.2562, -117.3177
T-9 food 34.2406, -117.2749
T-11 34.2565, -117.3639
T-12 34.2647, -117.3200
T-13 34.2571, -117.3219

T9 was at a friends cabin which is located in Crestline at Lake Gregory.
Well as we all know the plans for the hunters doesn't always go the way the hunt was designed. First I though the hunters would go further along 138 before starting up into the many dirt roads into the forest. The easiest would have been going up to Crestline and going to the T's from there. However it seems that all went up 2N49 (which I have no idea where it starts on the north side of the mountains, on the south it starts on Palm av, in San Bernardino an goes up a nasty dirt road to Monument Peak. Sadly N6AIN & Ray went by Monument Peak and went down the nasty road! Deryl! At M peak, turn left!!! towards the signals. Jippy & Glenn got stuck just as they were approaching T11. Glenn hiked up to T11 to sign in. Then went back to 138 at Silverwood Lake, then up 138 to Crestline. Doug was more fortunate except for his broken antenna, he took the left at M Peak and came across T7 and T13. He missed identified T12 as being T13, so until later he was confused! In talking with the hunters and offering a bit of help (we all need all the help we can get these days) . It was interesting that all three hunters saw each other at Gregory Lake, but only Jippy & Glenn and Doug found T9 the food T that was at Lake Gregory. Now Lake Gregory is only 2.5 miles around so this should not be a major problem. Only Jippy's team and Doug found T2 which was on Dart Canyon Rd. Deryl and Ray got lost and decided to throw up their hands and quit! Well thanks for coming out on hunt, sorry you missed the fine food and companionship of T-hunters & stories. I waited till the sun was about to set and went to retrieve the T on top of the plateau, T7, T13, and T12. T7 & T13 had been signed in, but Doug was having trouble separating T12 & T13. I helped him out by telling him how to get to road that went by 2N03 which T 12 was on! I had to drive to T 12 and put it in car and drive to the main cross road where Doug finally found it and admitted that T 12 was really T 12!
I know that getting motivated to get up and T hunt is getting harder, some of us now have medical problems that is making this harder as we age. So I thank all who did come out and hunt, I know this was difficult to do. So thanks from the T-hide group, KG6LOR, KA6TAS, KD6LAJ, KF6GQ, Ema, and Elias Leon (who's cabin was used as food and sitting accommodations) to the teams that came out.





Looks like DETERMINED Doug WA6RJN is the winner.