Hiders: Don KF6GQ and Steve KD6LAJ
Where: The Mountains east of Hemet around Idyllwild and Little Thoman Mountain.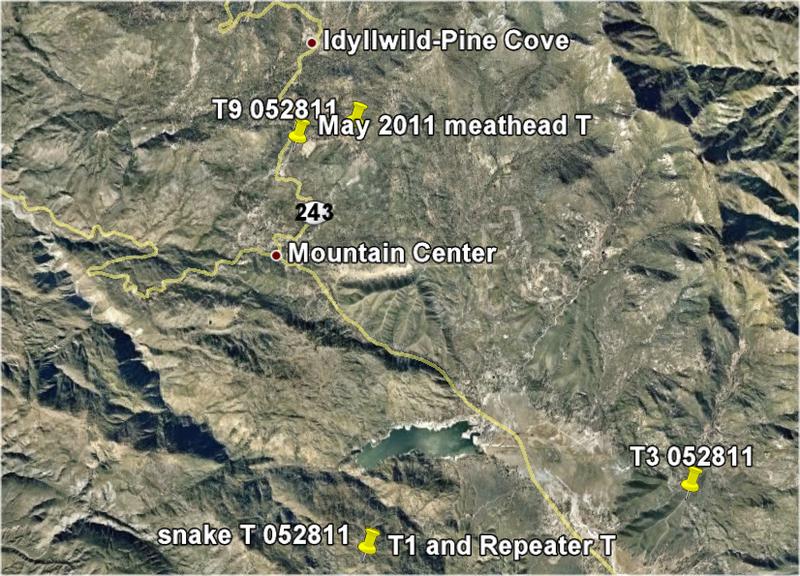 It was a bright and sunny morning, oh wait! That's Jippy's story start.

I took Friday off from work, so I would be able to get all my hide junk together (also it was nice to have a four day weekend). At 6:00am I was off to pick up Steve (my co-hider). We then left his house at about 6:45am on the way to Mountain Center, up in the southern portion of San Bernardino National Forest.

Our Idea was to set up a simplex repeator site that would be able to be heard from the start, and then have the majority of hidden T's be re-broadcast from there. Well when getting to get the start to be able to hear the T, we had to go to high power (3Watts). The antenna was a J-pole set up vertical (all T's were vertical). Beause of the extra power, I wasn't sure of the life of the battery, so I set the squelch to full on, so that the repeator T wasn't on all the time (we were hoping that more than only one T was being re-brodcast), but it seems that only the T (T1) which was only 12' away from the repeator was being brodcast! Lucky you guys on the hunt. So near the Repeat site we had one other T (T2) "Snake T", just off the side of the road. It seems that N6AIN and KD6LSE, who came up the back way to the T, only signed into the Snake T and passed the other two, till later.

We then hid three other T's down in the valley (Garner Valley). We hid one T3 Iding as T3 up on Fobes Ranch Rd. about 3 miles into the hills. The other two were on the north side of Mountain center about 4 miles on a cutoff from 243 at cooridinates N33.724550, W116.721588. This was a 50mw voice T (T5) anouncing "Meathead Hunt". Then T4 Iding as T9 was a converted AF6O box running just about 2 watts to a ELK beam, pointed down into the Garner valley.

Every T didn't go in as expected, we had to change out the coax on T4, when we got about .5 miles away, and the signal was not heard, had to go back and replace the coax, when we figured out what the problem was. T3 Garner Valley T was replaced, becaused the 5 mw T that was supposed to be there didn't get into the repeator (neither did the replacement T, running 1.5 watts!). We then realized that the squelch had been set too high!

After setting up T5, we went to have lunch at the Mile High Cafe. The food was just okay, and there was no soap in the bathroom! After lunch we went down to the Hemet Campground store to wait beside the road for the hunters to pass.

I was planing to do some 40 or 20 meter contacts, but the electrical noise was so bad we had to leave the area and went back to Thomas Mt. road, to wait there. As we were waiting N6AIN and KG6LSE snuck up behind us, coming down the dirt road from the repeator site. They told us of their adventures so far, and we hinted that maybe he would like to return up there again, before giving up the hunt. They left to see what other T's they could find.

Next we saw Doug WA6RJN, who had enought adventure to last him till next hunt! It seems he came in from the North via route 243 so He found T's 4 and 5 and then instead of comingback to the highway, he continued down the dirt road, which shows on the map, of having two gates, one on the north entrance, and the other on the south side, as it comes out onto Hwy 74. Well you guess it, it was open on the top, and locked on the south side. Because the road was sooo bad coming down into the valley, there was no way he was going to go back! So he took the time to dis assembled the gate on the hinge side, drove through, and re-assembled it back together again, before continuing on. I hope he sends in the photos.

So after talking with him for awhile, N6AIN/KG6LSE comes back with two more T's found, I remember counting there should be three more T's down here! They are heading back up the hill to the repeator site, to find the ones they missed. I called Jippy on the phone, and both he and Paul WB6HPW, are at the repeater site. So we follow all the vehicles back up to the top.

When we get there, we see Jippy is all bloody from bushwacking through the undergrowth! Hey Jippy, it's not necessary to go in that way! Well he found the repeator but hadn't founf T1 (iding as T3), so back up he goes. All the hunters now were looking for one of the remaining T's up at the repeator site.

We had two lost items, Jippy had to come back to find his Blue tooth, and Paul had lost his glasses. All were found, all Jippy had to do was to go back through all the mess he went through before, getting bloodied once again! Peter,KG6LSE, had found Paul's glasses, so those were returned to him. Now everybody was happy, and started to head back to find the last T's that each team needed to finish.

We got help in dis-assembly of the three transmitters that were up there, then heading back down the mountain to pick up the rest as they wer found. After all T's had been located, and everybody was ready to return home, we met down in Hemet for a Chinese dinner to end the Meathead Festivites.

We thank al that came out, we had a good time, expecially after hearing the stories, and it seems all felt it was a good day.
Till next time KF6GQ and KD6LAJ
| Team | Repeater mile | Time In | T1 miles In | Time Im | T2 Miles In | Time In | T3 Miles In | Time In | T4 Miles In | Time In | T5 miles in | Time In |
| --- | --- | --- | --- | --- | --- | --- | --- | --- | --- | --- | --- | --- |
| N6AIN/KG6LSE | 127.1 | 17:30 | 127.1 | 17:30 | 90.1 | 14:02 | 97.9 | 15:34 | 144.2 | 18:56 | 115.2 | 16:24 |
| WB6HPW/Peter | Unoff | 17:42 | Unoff | 16:05 | Unoff | 17:12 | Unof | DNF | Unoff | 19:20 | Unoff | 19:03 |
| WA6RJN | 102.0 | 17:56 | 102.0 | 17:35 | 101.9 | 17:12 | 109.1 | 18.6 | 91.2 | 14:38 | 89.9 | 13:56 |
| WB6JPI | 122.1 | 18:03 | 122.1 | 16:26 | 122.1 | 15:30 | DNF | DNF | 137.2 | 19:40 | 136.7 | 19:07 |
| IDing as | T2 | | T3 | | Snake | | T3 | | T9 | | Meathead | |
| | | | | | | | | | | | | |


The winner is..... WA6RJN Doug. He found all 6 Ts with the least miles 109.1
Second was N6AIN, Deryl and KG6LSE Peter. They found all 6 Ts with 144.2 miles.
Third was WB6JPI Bob. He found 5 Ts
WB6HPW Paul and son Peter were unofficial and found 5 Ts.