Hiders: Bob N6ZHZ and Cathy KD6CYG
Where: The mountains and roads around Owens lake, just south of Lone Pine California.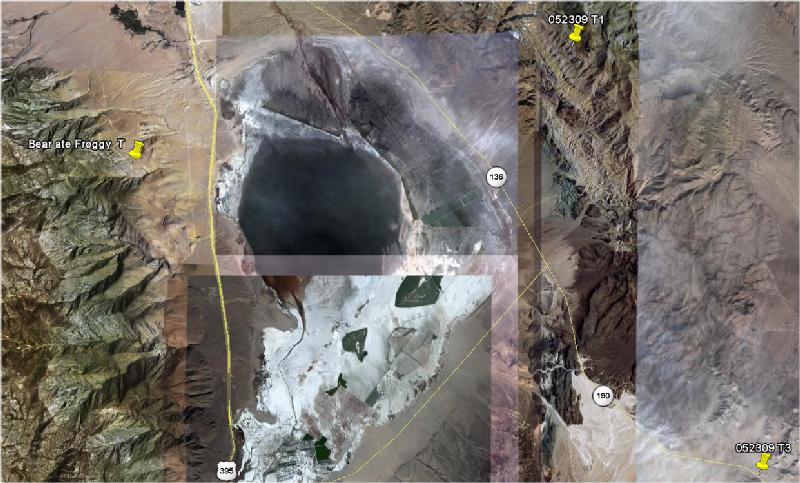 Jippy's Story
Don and Steves Story
Doug's Story
The Hiders Story
For the May 2009 Meathead T-Hunt, Cathy and I decided to hide up Hwy 395. We wanted to give the hunters a change of venue for the Start Point. PV was not on the way to the T. Gas would be saved by not driving down to PV and then up through Memorial Day Weekend traffic to Cajon Pass for a "jump off T". Hunters would be 90 miles closer to the Hunt area. More quality time could be spent hunting. We also hoped to encourage hunters from the High Desert area to come on out (maybe next time!).

So, on Friday, May 23rd, we headed up to the Owens Valley. We checked out Hwy 190 near Darwin, then took the back roads to get to Cerro Gordo. It was late afternoon as we chugged up the grade (It LOOKED flat on the map....), and near the top our automatic transmission overheat light came on. We stopped, made dinner, and chugged on. At the mine, we chatted with the owners, discovered that the roads we wanted to hide along were all gated, and asked if we could set up the main transmitter a little ways down on the one wide curve of the road.All Okay. Location at N36 32.22 x W117 48.63, elev.7,454 ft.

We went down across the valley to 395 and up Lubken Canyon Rd. to Horseshoe Meadows Rd. and spent the night. At 5:30 AM, with the sun in our eyes, we drove to a turnout at N36 28.75 x W118 04.85 degrees, approx. elev. 6,430 ft. It had a spectacular view and a couple of really cool boulders. We set out the original Froggy T; which, unbeknownst to us, was defective. Saw bear tracks. Cool.

Back down across the valley we headed to place the KD6CYG T and a 4 element beam in an outcropping of spheroidally weathered granite boulders. N36 19.50 x W117 41.54

Then it was down the hill and up to Cerro Gordo Road, through fantastic geologic scenery, to plant the main T and a 13 element beam. The hunters couldn't hear 5 watts, or 35 watts, so we bumped it up to 100 watts. Bingo. The Hunt was On!

After lunch, we got suspicious about not being able to hear the Froggy T. So back down across the valley we went, meeting Don and Steve on the way up to the main T. We discovered the Froggy T was sick, so replaced it with a micro T -- voice activated and a small wire for antenna. That darn T could be heard EVERYWHERE and threatened to take out all the other Ts.

We jogged back to Darwin. ZHZ took a nap at T2, and Cathy went looking for good rocks but found only a rattlesnake. By this time, N6MI and K6VCR were at the T. They signed in at 3:50 PM. We were all standing around talking, and not one of us noticed the 4.7 earthquake that was centered about 8 miles from where we stood, although Cathy heard what she thought was a large truck going down the road. As we left T2 we saw rocks and boulders in the road and later found out there had been a quake.

Bob WB6JPI, joined us for dinner at the High Sierra Cafe in Lone Pine.

Just as we were leaving, we got a call from Wayne, KC6TNJ.They had TWO flats at the base of Cerro Gordo Road. While Bob took Wayne into town, JPI and Cathy bounced up Cerro Gordo Road to collect T1, where his clutch fluid boiled. They made it back down okay, and it took 6 T-hunters to change two tires. In spite of the hardships incurred, a good time was had by all we taked to, which brings us to the close of one more successful hunt in the wonderful world of T-Hunting.
73's -- Bob N6ZHZ and Cathy KD6CYG

The results are as follows. Only 3 teams found all three Ts, and it is really a close call between GQ and MI teams. In this case, Crenshaw factors make the winner. Bob and I will have to do a GPS run of 7 to 9 miles or so up to Oak Hill Summit for a Cajon Factor. For now, the Crenshaw factor will prevail. The winner hides in October. Congratulations to N6MI & K6VCR!



TEAMS                     #Ts found      Total Miles   (CFactor)

WINNER!!!
1st -- N6MI & K6VCR          3            253.0 -- Crenshaw factor brings this to 247.43
2nd -- KF6GQ & KD6LAJ        3            243.1 -- Crenshaw factor brings this to 251.36
3rd --  WA6RJN               3            272.8
4th --  WB6JPI               2            237.4
5th -- N6AIN                 1            170.2
6th -- KC6TNJ/WA6TQQ/N6YKE   1            263.9