It was a full moon night (why do most all alldays have a full moon??) when I put out the Ts. I had spent some three weeks trying to get out of this hunt as I had an important meeting at Saturday morning in Anaheim. No one came forward to swap or do the hide so I decided to do it either late Friday night or early Saturday morning. I also moved the hide site much nearer so I didn't have to lose much sleep or drive twice far away. I will use my original hide spot in July when I hide again.
I decided to hide the Ts in Blue ridge and went out on Tuesday to check it out. The road was closed for the winter (Forestry seems to have a back-east calendar for seasons)/ I did find a short (3 miles) dirt road to the top of the ridge between Lone Pine Canyon and Lytle creek and there is no direct path to the start or anywhere else but Crestline form there. Yet it is at 5300 feet. Quick to get to but hard to find with no direct path from anywhere. I put T1 there (Iding T10), a 13 element wide spaced Yagi with 30 watts pointed at Crestline. I could hear the PV repeater clearly and it was coming from Crestline…a bewaring of 87 degrees. Now the fun part. Since most of the bearings to this T would be reflections off of some thing, I installed switch that would switch if from the Yagi to a vertical (Ringo) every half hour. Hopefully the would reflect off of something different every half hour.
I have had problems with my main T, a 30 watt Byon that seemed to run a while then quit. After replacing the harness, I ran it on Wed for 12 hours and it never hiccupped at all. Of course it quit soon after it was put out on the hunt. They had nothing to hear at the start but as I was in Anaheim I could do nothing about it but tell them to go east.
T3 was hidden 20 feet from T1 a 10 mW vertical T right on the road. Scott/Tom found T3 and found the broken T1 as tripped over it. They did a repair on T1 but again it quit. When I picked it up on Saturday the battery was still fine and the fans were running but the thing wasn't transmitting. It had stayed on long enough for Doug to find it after sunset…This was a very hard T to find since it didn't transmit often.
More fun was planned. The next pair of Ts were located on a dirt road off of Swarthout Canyon road. After a couple gnarly little hills the 20 watt T7 and 4 element beam was pointed down the canyon toward Crestline. Its companion T was T6, another micro T running 20 mW about 50 ft NE of T7. T7 was still running on Sunday.
The next was T5 a squawkbox hanging on a bush over a puddle. This T could be easily reached out of your vehicle window without getting mud all over Scotts cab. You guys will have to learn to sniff without getting out of your cars. It will eventually come to you as you get older.
The last T was a squawkbox in an Altoid can with 1 foot of coax and a 4 element beam. It was iding "WB6JPI T2 T2 T2" (I think).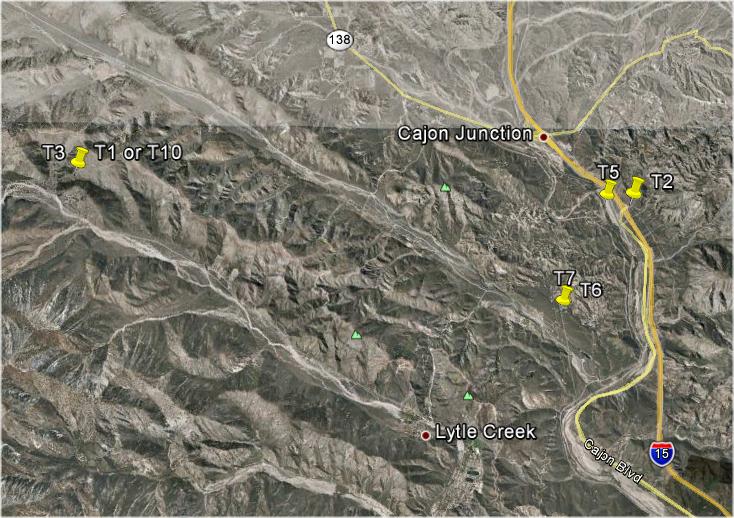 Hunter results:
Team T1/10 T3 T7 T6 T5 T2

Don KF6GQ/Steve KD6LAJ DNF DNF 50.4 50.9 60.6 118.3

Deryl N6AIN/Ray EKS DNF DNF 121.1 121.1 116 DNF

Scott N6Mi/Tom K6VCR find find find lots wet find

Doug WA6RJN 149.0 find 137.7 138 DNF DNF

Scott is the winner having found the most in the shortest distance.
.