Hider's Story WA6RJN Doug
I had through about hiding in the Malibu Hills for a few years. Since this was a Mini All-Day (as most seem to be now days) I though a more local area was in order. Besides, when I hid in February around Banning, I had comments that the signal wasn't in the expected direction.
In the old days you had to scout the area to find good places to hide a T. Now days, you just use Topo USA and Google Earth. I pick several prospective sites. I wanted one primary lead in site and the others in somewhat of a circle. The trick would be to hide the non primary Ts such that wouldn't be heard at the starting point.
I started by hiding on Little Sycamore Canyon Rd which oddly enough doesn't go through a canyon but runs like a rim around the hills. T5 (50 mW) was about a mile north of Mulholland in a bush. This site had a great view of the canyons in the area. Next came T9 (50mW) on Yerba Buena Rd about a mile north west of T5. At this point Little Sycamore Canyon has become Yerba Buena Rd and is on the North side of the mountain. My thinking was that T9 wouldn't be heard until you drive by this section of road. As it turns out my thinking back fired as it provided a direction to those that would have otherwise drove on past on hwy 101 heading to parts north.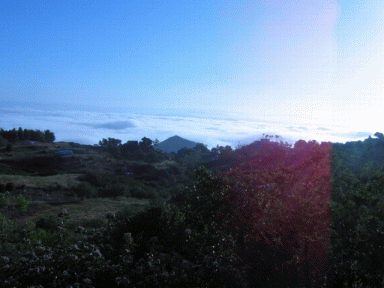 T9 looking toward Westlake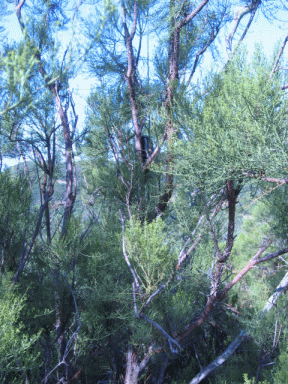 T1
I hid the main xmtr T1 (50mW) on Yerba Buena Rd at Yellow Hill Fire Rd. which is less than a half mile from T9. At this location it should be line of site to the starting point but not to the general L.A. area. I hoped the low power would create the illusion I was farther north (but then I spoiled it with T9).
T2 (3.5W) was next. I was inspired by a Conejo Valley T hunt several years ago. The signal appeared to come from this rock face. I spent an hour trying to get to the rock face before I figured out the T was on Pacific View down near the ocean. Using the Topo software I found Serrano Rd that comes off of Cotharin Rd. The road descends until a locked gate is reached. At this point there is a small canyon full of vegetation where I could point the 6 element "coat hanger" beam at the rock face but is shielded from hearing the signal directly. I was hoping for a lot of bounces to confuse the hunters.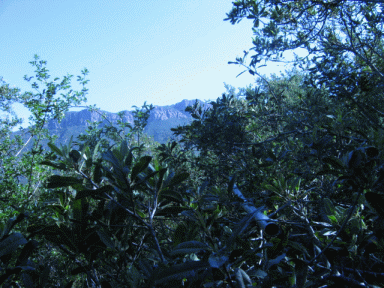 T2 and the rock face
T3 (1/2W) was off of Pacific View Rd about ¾ mile north of PCH. I found a road that went on the east side of a little ridge where Pacific View is on the west side. I pointed a 3 element "measurement tape" beam to the north at the rock face. This was about where the Conejo Valley Hunt T was located.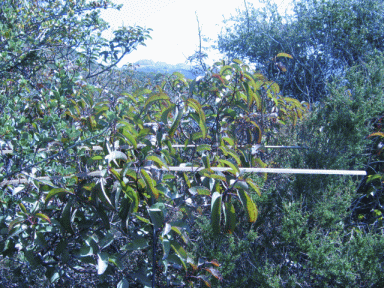 T3 and the rock face
After a nice drive along the beach on PCH, I turned north on Decker Canyon Rd. I went up Decker School Rd until I reach the summit. Here a trail comes off but I picked a location near by. Here the "bug T", T6 (50 mW), was announcing "There are 7 hidden Ts". To complete the set, I wanted a location that was low. Decker School Lane wasn't long but provided a location for the talking T7 (4W).
I know of at least two hunters that were on their way past the area but were probably saved by T9.
Looking at the results, I would say N6AIN, and N6ZHZ/KD6CYG came up the coast while WB6JPI, KF6GQ/LAJ and N6MI/K6VCR must have taken the 101 and came south on Hwy 23. As I was returning home I passed JPI going south on Hwy 23. The N6MI/K6VCR team wins the hunt because they toughed it out and found more Ts than any other team and the only one to find T3.
Results
| | | | | | | | |
| --- | --- | --- | --- | --- | --- | --- | --- |
| N6MI/K6VCR | T9 | T7 | T6 | T1 | T3 | T2 | T5 |
| Winner | 2:20 | 3:40 | 4:46 | 5:30 | 7:30 | 8:39 | 11:30 |
| by a T | 60.7 | 88.1 | 100 | 110 | 138.4 | 144 | 164.7 |
| | | | | | | | |
| N6ZHZ/KD6CYG | T7 | T6 | T9 | T1 | T2 | T5 | |
| | 1:00 | 1:30 | 2:20 | 2:45 | 3:45 | 5:30 | |
| | 54.8 | 57.7 | 60.7 | 66.4 | 74.2 | 86.0 | |
| | | | | | | | |
| KF6GQ/LAJ | T5 | T9 | T1 | T2 | T7 | T6 | |
| | 1:17 | 1:36 | 1:49 | 2:24 | 3:25 | 3:47 | |
| | 66.8 | 93.1 | 94.2 | 101.1 | 117.5 | 120.1 | |
| | | | | | | | |
| N6AIN | T7 | T6 | T5 | T9 | T1 | | |
| | 12:29 | 12:59 | 1:17 | 1:38 | 1:48 | | |
| | 57.2 | 60 | 66.8 | 69.2 | 69.8 | | |
| | | | | | | | |
| WB6JPI | T1 | T9 | T5 | T7 | T6 | | |
| | 1:17 | 1:46 | 2:43 | 4:49 | 5:10 | | |
| | 77.1 | 78.1 | 80.8 | 125.1 | 128.3 | | |
| | | | | | | | |