March 28th 2015
All Day
Transmitter Hunt

Hiders: Bob WB6JPI and Glenn AB6PA

I had a PLAN. I wanted a hide to bring the hunters into see the train loop in Tehachapi. This is a 4000 ft loop of track that elevates 75 ft as it completely circles a small hill. It is the 7th world wonder of railroading.

No!! that was 6 years ago exactly. the last time I had hidden an "all-Day" all day hunt. But again I had a plan.

I wanted to hide between Diamond Valley Lake and Skinner Reservoir west of Hemet. In early March my Son-in-Law Andy and I drove around the area and determined that the only way from the east side to the west side was to go around the lakes. Nothing on the maps or on the GPS crossed in the middle between them.

We also noted that De Portola road does not go north into Hemet. So if you were in Hemet you would have to go down R3 (Sage Road) to east Benton then west to De Portola and North to get to a T hidden there. This is a 12 mile journey.


When I hunt I usually separate the multiple transmitters by using the "T" numbers. These are usually sent in code and are in the vicinity of the call sign identifying the hider. I assumed that hunters also used this scheme and that if I could mess up method then hunters would be tracking the same transmitter they had just found or looking in two directions for the same T number. Coming from multiple transmitters. With the Arduino computers being so cheap and powerful, I programmed a transmitter (Baofeng UV5R) to sent IDs of T1, T2, T3, T4 at various speeds and various timings for 16 combinations before repeating. The second and third transmitters were the same but changed the order of the four IDs, Since all three transmitters were identifying as these four transmitters and there was not fourth transmitter, thought that this would cause a lot of confusion and bearing crosses all over the landscape.

When hunting Scott last month I was bothered by the N6MI burst every couple minutes. Too short to easily get a bearing and not often enough to do anything than to sit in one spot and wait for several transmissions. Great idea. I found that the FT857 had a feature called "Beacon Mode" buried in one of its couple hundred menus. Here we go.. I could only set it up to transmit for maximum of 255 seconds (4+ minutes) but my call is longer than Scott's so the longer time should keep things interesting. Since I have three of these radios why not have two of them mobile and one fixed.

Andy returned to Illinois and I scheduled eye surgery for the Thursday before the hunt. I was restricted to lifting lightly but I could drive (I can't read but can see great beyond my arms length.) I recruited help in the form a a very willing and capable Glenn AB6PA. I explained to Glenn about what I had in mind and he immediately came up with his own multi-ID T. This was the T11-16 below. I modified one of the FT-857s to match his and set it up to go into his car. I had some 12 transmitters and
we had Glenn's two. Should be enough.

I decided to have the "come-on" transmitter located in NE Hemet. This would bring the folk into the Hemet valley and for sure they would attempt to get to De Portola to get to the rest of the transmitters.

We had a PLAN.

We never got to the plan.

We met at 7 AM at the come-on transmitter T-10 running 40 watts into a 13 element wide spaced Yagi antenna horizontally polarized and pointed at Mt. Baldy It was located at Marshall st. ¼ mile South of Florida Ave, It was heard in a lot of LA and Orange County and even in the valley.

Next we went to check out if indeed De Portola Ave. went through to Hemet. It does!!! In fact it is such a nice dirt road we put T-9 near the top. It was a AF6O box running 3 watts into a 4 element vertical beam pointed North.

The next T we hung was on another pre judged situation that there was no pass from east to west between the lakes. Crown Valley road does make it through to Rawson road even though it is not at all clear on any maps. My GPS had no idea that Rawson went more than a few hundred feet. We stuck a big transmitter there 30 watts into a 10 element beam pointed south toward Mt Palomar.

Next Glenn's transmitter, Iding T11 thru 16 was supposed to be at the end of Alden St. but between the time Andy and I located the nice spot they had gated if off so we compromised by a 1/4 mile of two tire tracks East and stuck it to a fence south of Alden St.

T-1234 was located south of Benton on a pipeline street at a cutout . It was using a 4 element beam pointed north.

T4321 was located on top of a hill NE of Skinner reservoir. And had a 6 dB Ringo antenna.

That's it. With the many voices it must have seemed like a dozen transmitters.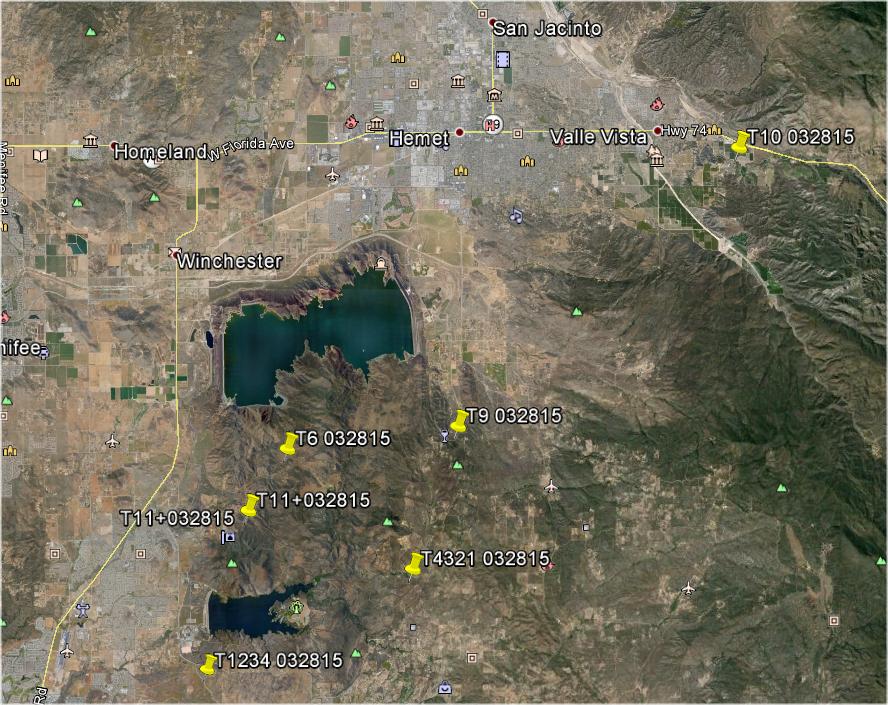 T10 N33 44.267 W116 51.744
T9 N33 38.756 W116 51.744
T6 N33 38.308 W117 02.525
T11-16 N33 37.092 W117 3.455
T1234 N33 33.962 W117 4.427
T4321 N33 35.936 W116 59.553
Results:

N6AIN/N6EKS T9, T10, T4321, T6, T11-16 5 TOTAL TIME 6:24
Kf6GQ/KD6LAJ T10, T9, T4321, T6, T11-16 5 TOTAL TIME 3: 53 winner

N6ZHZ/KD6CYG T10, T9, T4321 3 TOTAL

WA6RJN T10, T 9 2 TOTAL


T 1234 was not found. It was located just off Benton the path from the east to west south of lake Skinner. The two teams used the newly found connection using Crown Valley and Rawson Rd and never had to go south to Benton or north to Domengoni PKW.
No one has commented on the two 857 mobile transmitters Iding every 4 minutes.

There was also an outsider from Lake Elsinore that had a voice transmitter on for a while.

The best laid plans etc..

Thanks Glenn for stepping up in my time of need.

Bob WB6JPI

Don and Steve's Story