Hiders: Bob N6ZHZ and Cathy KD6CYG
Where: Mission Beach near Sea world in San Diego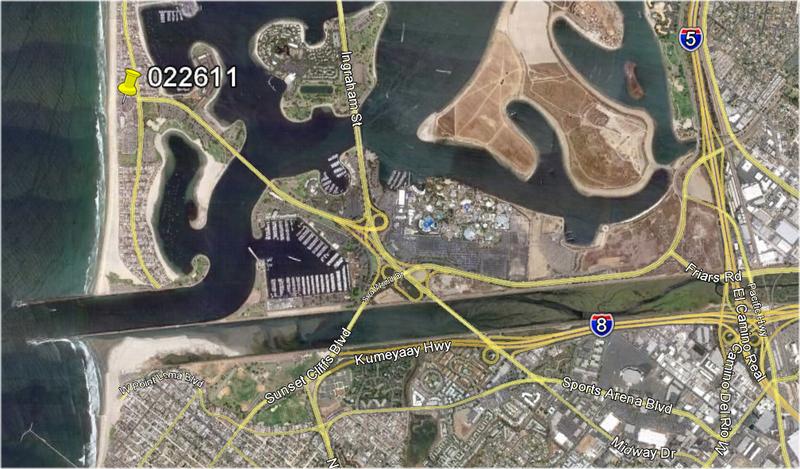 Bob and I were thinking we might call Paul and Peter the winner of the Feb. hide. After all, Paul's appeared to be the only honest answer on our sign-in sheet, as being "Unofficia
KF6GQ & KD6AJ fibbed at coming in with 219.4 miles (1st one in at 1:10 pm)

WB6JPI fibbed, coming in at 229.1 miles (2nd one in at 1:10 pm)

N6AIN fibbed, coming in at 326.7 miles. (3rd in, at 1:23 pm)

The WINNER, WA6RJN may have fibbed; it is a little unclear if the mileage is 121 or 1121, 4th at 2:05 pm.

WB6HPW & Peter were unofficial and this was clearly noted at 2:25 pm.

N6MI and K6VCR were either very unofficial with only 15 miles or fibbed as well, at 3:?? in the theoretical afternoon.
Therefore, after holding a magnifying glass to the rain spattered sign in sheet, it appears that after all, Doug WA6RJN really did come in at 121 legitimate miles, and is therefore declared by the Bob and Cathy hiders to be the whiner. I mean, winner. Congrats, Doug, this means you hide in July.
Meanwhile, N6ZHZ and KD6CYG have decided that the next time we hide, we may choose the most creative fibber as the winner. Or whiner, as is usually the case.
Due to flooding, the road to our desired hiding spot was washed out, so we picked a blustery, rainy little spot near Mission bay and a rollercoaster; with several good restaurants at hand. Perhaps not one of our more memorable hides, but we'll make up for that another day.
Thanks to one and all for coming out and fibbing!
73's
N6ZHZ & KD6CYG
Bob and Cathy