Meathead-ALL DAY T HUNT
January 22, 2011
WB6JPI

It was a sunny day not too hot and not too cold.. The hide was to be around the Mojave River, taking advantage of the fact that this hunk of sand was usually dry but after the rains of December and early January it was about 50 ft wide and too deep and sandy to try to cross. Bridges were far apart. I chose a stretch about 12 miles between bridges near Helendale. I had two transmitters on one side and two on the other. The west side was a lot of little dirt roads that never seemed to be graded so they were 10 MPH. And on the other side They tended to get muddy, with some railroad tracks that were very busy with few crossings. So this was the scene. I never noted any hides in this area in the last 30 years.
Between the river and the start point were two obstacles. One was the San Bernardino Mountains, a bunch of 6000-10000 foot things about 25 miles from the location (2200 ft). The second was a bluff on the SW side of the river which was about 100-200 ft high. So there was no way that I could hide a transmitter very near the river and expect it to get into the start . I also wanted to try to have the main transmitter located so that it was below the horizon and even with bending would only hit the tops of the San Bernardino Mountains to scatter into the start point. This would leave the flat part of the desert between the mountains and the hide with a below normal signal level and possible cause some strange behavior in the hunters. This didn't work as none of them appeared to be stranger than normal.
T1, the main transmitter (signin sheet T-1, Iding T10 or T12 depending on who you talk to), ran 30 watts into a 13 element wide spaced Hpole beam at 5 ft elevation pointed at the start point 86 miles away. N34 41 22.3 W117 21 43.0
T6 was on the same side of the river and also on the bluff about 2.5 miles south of T1 iding T11 or T12 depending on who you talk to, running 1 watt into ta 4 el beam in a bush Hpole pointed at Barstow about 15 miles to the NE. N34 39 10.9 W117 21 52.6
T2 was across the river about ¾ mile SE of T1 running 1 watt into a 4 el vertical beam pointed at T1 and was iding T9 (I think) N34 40 29.0 W117 21 08.1
T3 was on the same side as T2 and about 6 miles south of T2 running 20 watts into an 11 element Hpole beam at 4 ft squished under an oak tree pointed at T1. N34 34 50.0 W117 19 55.9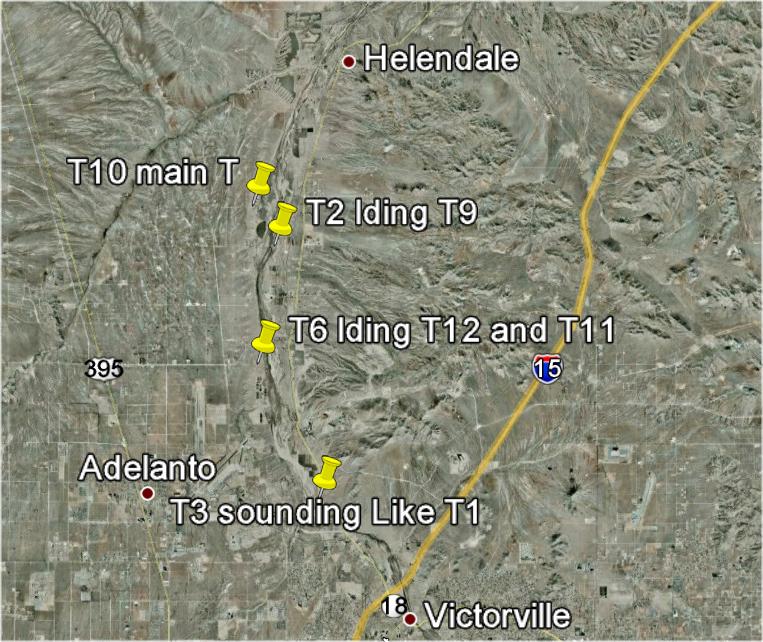 It seems that all hunters came over Cajon Pass and got some line-of sight bearings from Summit Inn and either proceeded north on I-15 or 395. Those taking I 15 to the Stoddard Well area were really in trouble as the shortest way over to the hide area was to go back to 395 or on to Barstow. (Sorry Scott)
We had two official starters, one un-official and one non-starter.
Hunter T1 T2 T3 T6
Calls
Don/Steve found DNF found found
KF6GQ/KD6LAJ

Deryl/Ray 132.3 148.4 DNF 126.5
N6AIN/N6EKS 2:34 3:56 1:40

Scott found DNF found found
I have a quandary. Since to this crowd hiding is to be avoided at all costs the win must be awarded to the hunter who made did most abuse of the system. Scott did not get to the start so he must be the winner, but a worse disobedience is Don/Steve who failed to write their own calls or mileage in the signin sheets. So I declare that they must be the winners because clearly they must have had something to hide

Winners: Don KF6GQ and Steve KD6LAJ